DIY crackers
Crackers are a long-time favourite in this household. When my eldest was a baby, he would eat them plain and he loved them, so I always had them as a standby snack. But I'll admit that I use to buy them and would always have a pack on hand. Then when I started avoiding plastic packaging, the dilemma was that crackers usually came in 2 layers of plastic, the tray plus the outer wrap. And as we didn't want to forgo the crackers, we needed an alternative option.
Well the good news is, these crackers are easy to make, and a good one for the kids to help with too. These crackers can be used in waste free school lunches, as a nibble before a meal, or an anytime snack. They're good plain, but I'll admit, I do like them with homemade dips too.
These crackers will store well, in an airtight container and will last a few weeks (or more). They get eaten fairly quickly here.
Homemade crackers recipe
Ingredients
1 cup flour, plus more for kneading/rolling (can be whole wheat or plain flour)
1/2 teaspoon fine salt
¼ cup (or 3 tablespoons) oil – olive oil, ricebran, vegetable oil etc
2-3 tablespoons water
Optional:
1 1/2 teaspoons seeds eg sesame, flax/linseed, poppy
½ teaspoon mustard powder
Method
Set oven to 180ºC.
Combine flour, salt, seeds and mustard powder (if using) in a medium bowl. Drizzle in the oil and 2 tablespoons of water. Combine with a wooden spoon or rubber spatula until the dough comes together. If it's still crumbly, and a little more water until it forms a ball.
Lightly dust a board or your bench with flour
Knead dough for about 2 minutes until smooth.
Place back in the bowl and cover with a teatowel for about 20-30 min (longer is fine)
Roll out to about 5mm on floured surface.
Note:- if you're not use to rolling out dough, or have a child helping, cut the large ball into about 6-8 pieces, as this makes it easier to work with.
Optional: Sprinkle additional seeds and gently press into the surface. Cut into wedges, rectangles, or any shape you wish.
Transfer to baking tray.
Bake 8-10 minutes until lightly golden and crisp.
Store in an airtight container.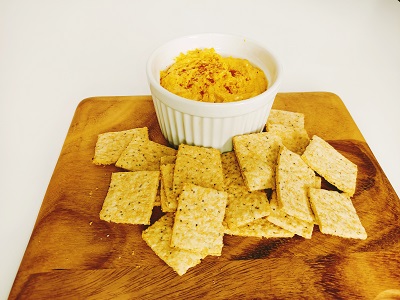 I hope you enjoy these crackers. If you make them at home I'd love to know how you went.