Enjoy your salads without the waste
Salads can be a light lunch, or a hearty meal. They're one of the easiest meals to throw together, and the list of salad combos is only limited by your imagination. But they don't have to be just on the side, salads can be the feature centrepiece at parties, or any occasion.
However, the humble salad can create unnecessary waste – bagged salad ingredients, condiment bottles, and leftovers in the bin are the start of it. But all of this waste with salads, is easily avoidable, and some basics with making your own dressings, will make your salads even better.
There are simple ways you can avoid waste, use up leftovers and make salads which are the star of the show.
This post was written to support the households getting active in 'Low Waste Living' research project by Monash University. Your comments on reducing food waste, or your favourite salads will be appreciated. If you have any images of your salads that you'd like to share, please email kirsty@sustainabilitypathways.com.au
Use the menu links to jump to the condiment or salad recipe you want to, if you wish to skip the scrolling
Waste free salad cook along video
Basic salad dressing recipe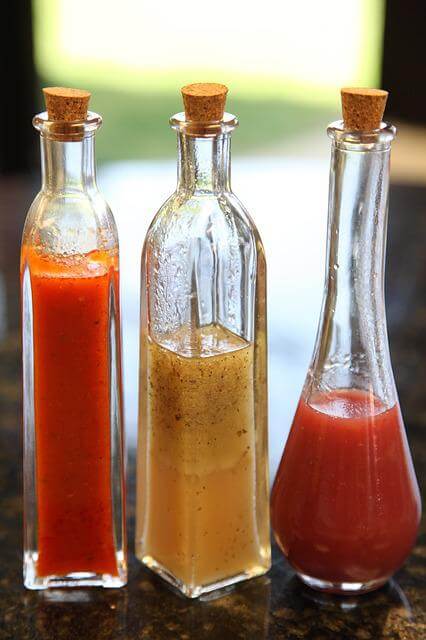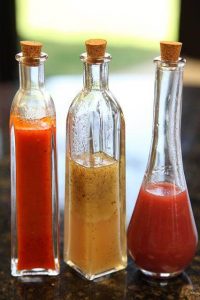 Ingredients
1 tablespoon vinegar or lemon juice
2 tablespoons oil
½ teaspoon Mustard (powder or jar)
Optional: salt, pepper, honey, garlic, herbs
Method: Put oil, vinegar and mustard in a jar, shake until the ingredients are mixed through. Optional add garlic or herbs, shake again. Pour onto salad just before serving
Notes:
Vinegar: I often use apple scrap vinegar, but you can use wine vinegars, balsamic, or any good vinegar you have.
Oil: I typically use rice bran oil, or extra virgin olive oil. But you can use any oil you like.
Mayonnaise recipe
Ingredients
1 whole egg
Teaspoon mustard powder or Dijon mustard
Tablespoon vinegar or lemon juice
1 cup oil (approx.)
Method
Add an egg to the bowl of your food processor. Add mustard, vinegar, then process until well mixed.
Slowly add the oil, in drops. Then mix
Add a bit more then mix until about a quarter of the oil has been added.
Gradually add the rest of the oil until you reach a thick consistency.
Taste the mayonnaise and add vinegar or lemon juice and salt or other flavourings
Note: Adding the oil slowly is essential. If you put too much oil in before it mixes in, you'll split the mayo and it won't get that beautiful thick consistency. (In the live video, I cleverly managed to split the mayo – so showed how to fix a split mayo)
Rainbow Salad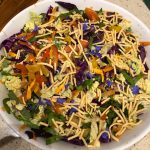 Kath Balson from Ozharvest glammed up this crunchy rainbow salad by adding edible flowers. Calendula and cornflower petals added a beautiful touch.
You can really mix it up with this salad.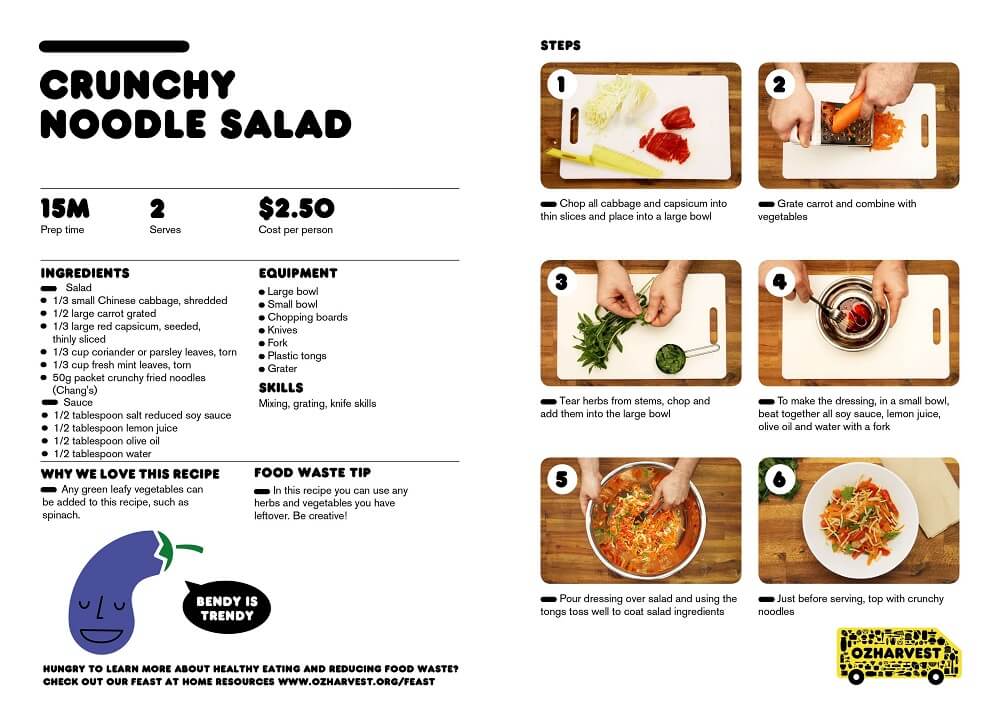 Trifle salad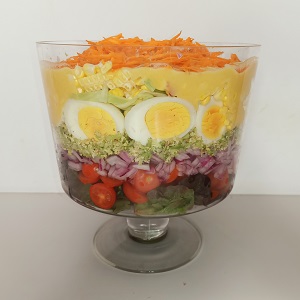 This salad can easily be varied with whatever is in season, or is in your fridge.
In this salad there is
lettuce
cherry tomatoes, halved
red onion, chopped
cauliflower, riced (grated)
boiled eggs, halved
cabbage, chopped
corn
carrot, grated
mango mayonnaise (mango puree mixed with mayo recipe about 50/50)
Waste free salad cook along video
Here's a recording of a live cook along, where I was joined by Kath Balson from OzHarvest and Bayside Party Share with Costa Georgiadis who came on board to take on the challenge to reduce food waste, and help get the message out there.
Waste-free salad inspiration
Here is further inspiration from people who watched the cook along and tagged me or sent images through of their low waste salad meals