What to do with leftover bread
By repurposing stale or leftover bread, you can create some winning meals or desserts. But don't worry, if you often throw out excess bread, you'll be surprised at how many great dishes can be made using old bread.
Having done food waste audits, I can tell you first hand the amount of bread that gets thrown away, is crazy. So I've written this post to highlight that unless bread is mouldy, you can, and should use it.

So while older bread might not be appealing, if you want a fresh sandwich, with a little know how, you can turn stale bread into some great dishes. In fact some of these recipes, are our family favourites.
I also have some tips for you, on how to buy and store bread sustainably, but if you've got that covered, then use the table of contents to jump to where you want to start.
How to buy bread sustainably
How to store bread
Stale bread recipes
Breadcrumbs
Croutons
Bread chips
French toast
Bread and butter pudding
Fruit desserts with bread
Salads with bread
Garlic bread
Feeding animals bread
How to buy bread sustainably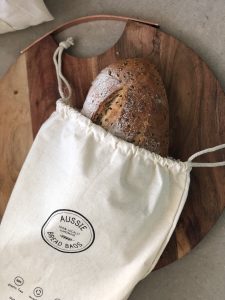 It could be said, the most 'sustainable' bread is the loaf which has been lovingly made, by you. But let's be real, even though I do love homemade bread, most of the bread we eat is from the bakery.
The greatest environmental impact from producing bread, is when bread goes to waste. And we have that covered with the suggestions in this post.
But when it comes to waste, try avoiding single-use packaging. You can do this by using a reusable bread bag. Of course, this isn't possible in most supermarkets, which is another reason why I like to buy bakery bread. Bakery bread also means my bread is made as locally as possible too.
Using reusable bread bags means our family can avoid over 100 single-use bread bags each year.
If you want more on how sustainable your loaf is to produce, the CSIRO has a post on how environmentally friendly your bread is.
How to store bread
There are 2 ways we store bread.
At room temperature, either on the bench or in the pantry – do this if you expect the bread will be used in the next few days.
In the freezer – which means you can buy multiple loaves at a time, and you can maintain maximum freshness.
To use frozen bread, take out the slices, as you need them. For work or school lunches, make sandwiches with frozen bread, and they'll be thawed perfectly by the time you eat them. And you can put bread straight into the toaster when it's frozen too.
DO NOT store bread in the fridge, as while it will prevent it going mouldy, it also looses freshness faster, by drying out. So it's better to use the freezer to increase the life of bread.
Stale bread recipes
The list of things you can do with stale or leftover bread is only limited by your kitchen creativity, or the recipes you use. My kids will tell you that cheese toasties or French toast are the way to go with old bread. I have childhood memories of saving the breadcrumbs for the stuffing in roasts. Garlic bread or croutons for soup or salad are also winners here and bread and butter pudding, is considered a treat.
I hope you'll find some new favourite recipes by repurposing stale bread, so you'll never want to throw bread out again.
Breadcrumbs
If you eat bread, there is no reason to buy breadcrumbs – EVER. Aside from excess packaging, there is no point throwing out bread, and then buying breadcrumbs.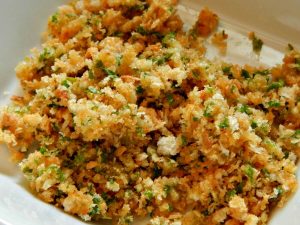 Breadcrumbs are easy to make, and if you don't have an immediate use for them, then store breadcrumbs in the freezer.
To make breadcrumbs, if you have a food processor, rip the bread into smaller pieces and blitz.
Alternately you can grate bread, which makes a larger crumb and is good for rustic toppings.
Notes: It can be easier to grate the bread when it's frozen, or after toasting it.
If want to store crumbs on the shelf, dry the bread in the oven. Breadcrumbs can be stored on a shelf for several months – but they MUST be dry. Otherwise use the freezer.
Here are ideas to make breadcrumbs fancy to help you take your meals to a whole new level, with very little effort.
Some uses for breadcrumbs are
crumb toppings over vegetables or pasta
crumb coating for schnitzels, chicken, fish and veggies
to bulk up meatloaf, veggie patties or meatballs
Croutons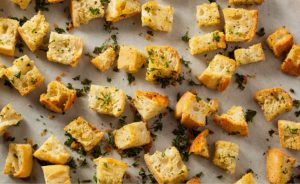 An easy way to jazz up a meal like soup or salad is with croutons.
Cut bread slices into cubes between 1-3 cm
You can dry toast them by laying pieces flat on a baking tray
Optional, you can flavour by lightly coating in oil and adding crushed garlic, herbs like rosemary or thyme, spices or chilli
Put in a moderate oven for 5-10 minutes until golden
Use straight away or store in an airtight container for a few days
Croutons are classic in the Italian Panzanella salad, and Caesar salad, but they're great in any salad to add some crunch.
Bread chips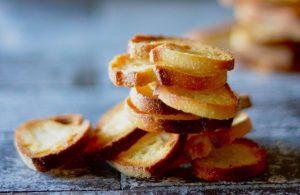 Bread toasts, Melba toast, bread crackers, bread chips are all the same thing. They're great as an alternative to crackers and are good for using up baguettes or French sticks.
So simple to make, check out this Melba toast recipe
Homemade bread chips are great with nibble platters or dips. And are an easy way to avoid single-use plastic with store bought crackers
French toast
French toast, also known as eggy bread, is one of our kids favourites. Which is great, because it's so quick and easy to make.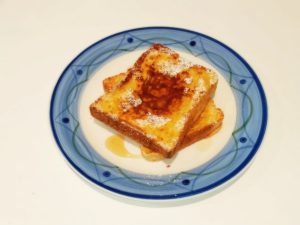 There are many recipes out there, but I stick to a simple formula.
For 2 slices of bread use
1 egg
¼ cup milk
Optional sprinkle of sugar or salt (depending if you want it sweet or savoury)
Wisk together the egg, milk (and optional sugar or salt) dunk the bread in to coat, then cook in the fry pan until golden on both sides
Double or triple this, based on how much you want to make.
French toast is great straight from the pan. But to make it more of a meal, add whatever toppings you would use for pancakes or toast.
For sweet we like berries or bananas.
For savoury try mushrooms, bacon, tomato, avocado, relish or whatever needs to get used up.
Note: the amount of egg mixture will vary depending how much the bread soaks up. Any leftover mixture can be stored for a few days in the fridge, or you can add another egg to it, and make scrambled eggs to go on top of the toast.
Bread and butter pudding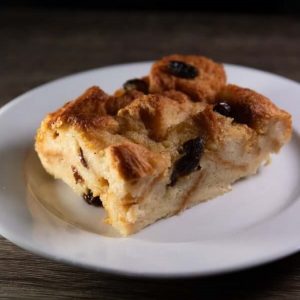 Bread and butter pudding is a classic way to use a half to full loaf of bread. There are a multitude of recipes out there and they're all adaptable, which means you can use up other bits and pieces you may have in your pantry or fridge too.
Bread and butter pudding can be a sweet or savoury dish.
Sweet bread and butter pudding recipes
Savoury bread and butter pudding recipes
Another variation to try is Bread pudding muffins
I'm yet to try this clever idea (and I'll update the post when I do). A great idea for portion control, and for a lunch box filler.
Fruit Desserts with bread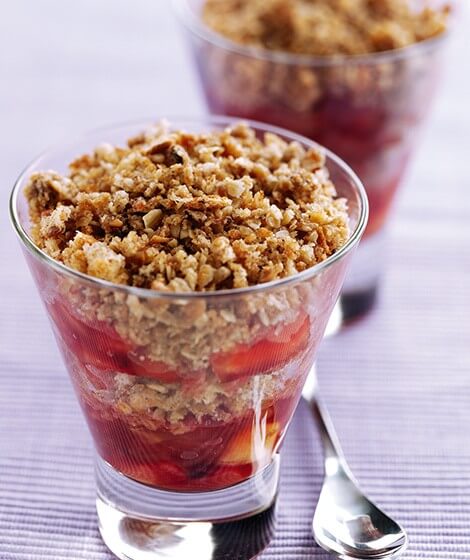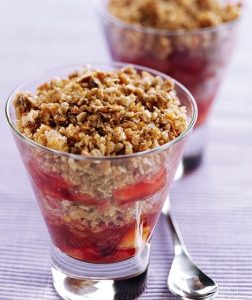 If you like an apple crumble, then a Brown Betty is close to that. It's a classic American dessert which has a fruit base and is topped, and often layered with sweetened breadcrumbs.
It's also a great way to use up any fruit you may have. When served in glasses, these leftovers turn into a fancy looking dessert. And best of all this is so quick and easy to make.
Summer Berry pudding is another winner. As the name suggests, this is made with summer fruits, and is also a fun way to use extra berries. Named the Summer pudding, because that's when the fruit is in season. And worth making just for the gorgeous colours. Also an impressive dessert.
Garlic bread
There are so many variations of garlic bread. And when we've had leftover bread from a bakery, this is something we would have often.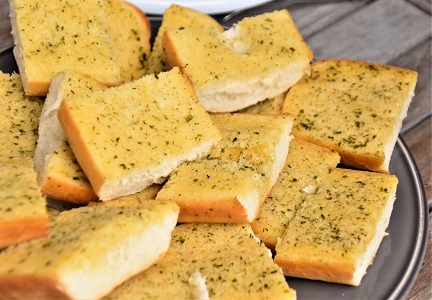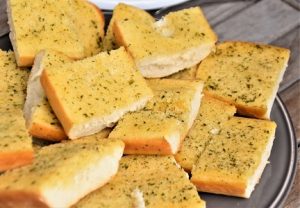 Garlic bread is simple to make.
Either mix 1-3 tablespoons of softened butter with a clove of garlic
Or mix oil 1-3 tablespoons oil with a clove or garlic
Brush or spread onto the bread. Optional sprinkle with herbs or cheese.
Bake in a moderate oven for 5-10 minutes until the butter has melted, the bread is warmed through, or becomes golden.
Note: If the butter is hard to spread, mix some oil into it as well
Any leftover butter or oil can be kept in a container for other cooking, or the next time you make garlic bread.
Feeding animals bread
I'll admit when I was a kid, we use to save old bread to feed ducks, but research has shown that bread is like fast food for ducks, and can make them sick. So please do NOT feed ducks bread.
 But it is ok for chickens to have small amounts of bread, in moderation.
What is your favourite way to use old bread? I'd love to hear your favourite ways to repurpose stale bread into something special.