Sustainable Picnic Food tips to avoid plastic waste
Having a picnic will never be out of vogue, but over the last few years picnics became increasingly popular. If you google picnic locations in Melbourne (or wherever you are) you'll find a list of parks, reserves and gardens which will set the scene for a great day out. You'll probably find a new location to explore if you're up for a walk through nature as well.
For me, some of the fun of picnics is in the planning, especially if it's for a gathering or a special occasion. But even if it's a impromptu, preparing the picnic food is where the excitement can build. It could be a packed lunch of sandwiches and fruit for when the hunger sets in at the beach or on a hike. Or maybe you're more into a grazing spread so you can nibble while you relax and enjoy the company your with, or the location where you have set up.
Part of the planning to keep it zero waste, is not just in the food, but particularly to avoid single-use packaging, cutlery or any disposable waste that you can. Sometimes with packed lunches, even with those who are usually pretty good at reducing waste can be a little lax. But when we get out into nature is when we need to be even more mindful of the waste we create. Because too often there are overflowing bins, with litter scattered in our natural spaces. And I don't want to contribute to that in any way – ever.
So, if you are planning a picnic here's a simple guide to minimise your waste while enjoy the great outdoors. And just for fun we've done a cook-a-long as live broadcast with some ideas, the recording is below.
Use the links to jump to where you want to start
Picnic plates, cups and cutlery
Picnic Menu Planning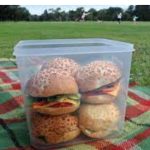 It goes without saying food is a key element of a picnic and with a little planning you can avoid resorting to using single-use plastic. Even if your picnic is impromptu with a little thought into preparation, you can avoid most waste.
Shopping locally and buying food or ingredients which don't come with unwanted packaging are a good start. Actually, it's best to do this all the time, it's not just for picnics. If you try to live a low waste life, when you have a picnic or even a special occasion, then why create waste when it's not hard to avoid it.
Easy Picnic Food ideas
Sandwiches or rolls can be the simplest or the fanciest picnic food. Make them with your favourite fillings, pack into a container and you'll be good to go.
Make your own dips and serve with crudités or homemade crackers, and store in reusable containers.
Buy loose produce. Cut up fruit like watermelon or rockmelon and kiwi fruit is always a treat. But I like to pack apples uncut because they serve as a reserve fruit snack which keeps well if uneaten.
Snacks from a bulk store, like vegetable or banana chips where you can take your container and fill it or better still homemade snacks like muffins, cookies, slices or bliss balls are always a treat.
Popcorn really simple and a great grazing food
Gourmet Picnic Food ideas
If you're having a picnic and you want to impress you could try
Frittata, mini quiche, or vegetable slices are a great picnic treat and you can use up anything in your vegie crisper draw with these too.
Make sandwiches fancier with lovely breads like sourdough or focaccia or some homemade flatbreads.
Devilled eggs, terrines and scotch eggs are a bit fiddly, but for something special are worth the effort. Take special care for transporting them.
Samosas, falafels, veggie sausage rolls are always a treat and easy to eat. Sometimes a little extra effort in the preparation makes serving and eating easier
If you're picnicking with group, salads can be an option and everyone can bring a plate to share. You can't go wrong with potato, pasta, coleslaw or tossed salads. But make sure you bring reusable plates and cutlery for everyone.
Zero waste picnic drinks
If you're into coffee or tea take along a thermos, or if you'd rather a takeaway cuppa, for those who can't escape the café culture, then remember your reusable cups.
Fill reusable water bottles, even more importantly on a hot day.
In place of sugary drinks in single-use bottles, you can try water with slices of cucumber and lemon.
Homemade iced tea is also a picnic winner
Picnic plates, cups and cutlery
This is given if you want to go low waste. Use reusables for everything. I have them on hand when I'm out and about and expect to grab a bite. Plate or container, cup and cutlery are essential. I typically carry a container because the lid is useful to have, but my camping plate has been known to come in handy too.
If you don't picnic often, see what you can borrow. It's likely you'll have a friend or family member or if not, there is the Party kit network which has sets you can borrow to avoid waste with a group.
Picnic leftovers
When feeding a crowd, it is very easy to over cater. This is of course waste we want to avoid. I like to have our main picnic meal, as well as snacks that will keep so can be eaten at a later time. Fruit like apples and mandarins are good for this. So are most slices and cookies.
If you are bringing food and don't want to take it home yourself, then take along containers which you're happy to part with so you can give it to someone else to take home with them.
Take an esky with reusable icepacks to keep things fresh for longer.
Compost what you can't eat
Often the only bins available in public places are for landfill, which isn't the best way to manage food scraps. If you have a compost or FOGO (Food Organics and Garden Organics which is collected by some councils) then you can take any food scraps home. It might seem a little extra effort, but if you have containers then it's easy to take home and not send anything to landfill.
Picnic Cook Along Video
Here's a recording of a live cook along, where I was joined by Mariam Issa from RAW 'Resilient Aspiring Women' with Costa Georgiadis who came on board to take on the challenge to reduce food waste, and help get the message out there.
If you have a favourite picnic food or picnic spot I'd love to know