A cheats pizza to use up your leftovers
Using a scone dough for a pizza base is a super easy "cheats" way to get dinner on the table in 20-30 minutes. And better still it's a great way to use up leftovers. For toppings you can use whatever you have, it could be ½ a capsicum, a couple of mushrooms, leftover roast meats and veggies, pineapple, avocado or almost anything really.
So this great scone base pizza dough recipe is a great way to save money takeaway while using anything you have in the fridge. And even better again, is that you can have it cooked and served in a faster time, then it would take to have pizza home delivered.
This recipe makes 2 medium size pizza bases, or around 6 mini pizzas (depending on the size you make them). Or one pizza and 4 savoury or pizza scones. You can also double or triple it, if you need a bigger quantity.
Scone dough pizza base recipe
Ingredients
1.5 cups SR flour
3 tablespoons cold butter (see note)
½ cup milk, whey, or other liquid
Extra flour for dusting
Optional (but recommended to add more flavour)
Pinch salt
Teaspoon mustard powder
Herbs eg pizza herbs, oregano thyme
Pizza topping suggestions
Passata, tomato or BBQ sauce
Cheeses eg mozzarella, tasty, colby, parmesan (any blend of cheeses you have)
Veggies eg mushroom, capsicums, zucchini
Leftover roast veggies like pumpkin, cauliflower, eggplant
Fresh pineapple is often a winner with kids
Anything you've got which needs to be used up
Method
Pre heat oven to 200°C
Mix the flour, salt, mustard and pizza herbs in a bowl
Rub in the butter with your fingertips until it becomes crumbly. (I do single batches by hand, but you can use a food processor if preferred)
Add the milk and mix until just combined
Take half the dough and roll out until about 20-24 cm (if you like a thicker base it will be smaller)
Lift onto your baking tray
Top with pizza sauce of choice (optional sprinkle with more pizza herbs)
Add your toppings and cheese
Bake for 10-15 minutes until cheese is melted and it's slightly golden.
Note: oil can be substituted for butter. In which case you can mix it in all together with a spoon or spatula instead of rubbing the butter in which is how Jaime Oliver does it
Any liquid can be used. Water is fine, but milk makes the pizza dough base a little softer, which is what I prefer.
If the dough is thicker it will take a little longer to cook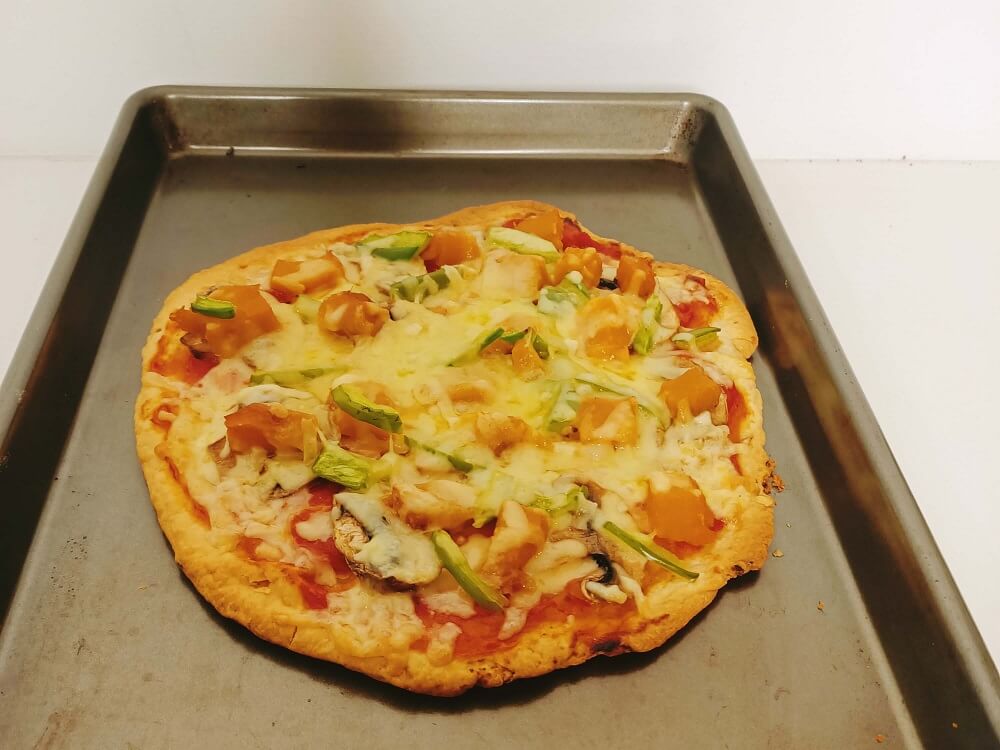 If you have more leftover veggies to use up, then next time you could try fritters from leftovers.
I hope you enjoy this scone based pizza. If you try it, let me know how you went. O would love to know your favourite topping combination from leftovers or see your pizza photos.