Ways to use up excess strawberries
A strawberry picked and eaten straight from the plant is an absolute treat. And generally my preference is to eat strawberries fresh. But at the peak of the strawberry season, when they're at their cheapest I'll dig out recipes which use bulk amounts of strawberries, and we'll make the most of the strawberry overload.
At the time of writing this, there was an abundance of strawberries from Queensland growers, thanks to pandemic lockdowns which has pushed strawberry prices to below the cost of production. But at the peak of the season there is often an abundance which we can make the most of.
I've compiled some of my favourite ways to cook or preserve strawberries, to make the most of them when there is an excess. And a few fun strawberry fun strawberry facts, if you want to get your trivia nerd on.
Use the table of content links to jump down the page.
Strawberry sherbet (frozen dessert)
More ways to use up strawberries
Strawberry fun facts
Strawberries are high in vitamin C, manganese, folate and potassium and antioxidants.
You can find more strawberry nutritional information here.
Strawberries are a member of the rose family, Rosaceae which includes apples, pears, plums, stone fruits and raspberries.
Botanically, strawberries aren't berries, they're considered an accessory fruit.
Strawberries are the only fruit that have their seeds on the outside.
Strawberries aren't always red. White alpine strawberries are a woodland strawberry which can grow in partly shaded areas. I've never seen them for sale, but they're easy to grow, and are smaller than regular strawberries but more intense in flavour.
Strawberry mythology
These irresistible, sweet, juicy morsels pop an explosion of flavour into your mouth, that doesn't compare to any other fruit. And with a heart shaped appearance, it's no surprise strawberries are considered to be a fruit of love.
Mythology says if you break a double strawberry in half and share it with a member of the opposite sex, you will fall in love with each other. I read it on the internet, so it must be true. Maybe it's because strawberries pair so well with champagne and chocolate, that they make their way into so many weddings and are considered to be an aphrodisiac.
While I believe this wonderful heart shape fruit does have a romantic vibe, the science is out on this one. But that doesn't stop us loving strawberries, all the same.
Strawberry recipes
I love to eat strawberries freshly picked, on their own, in a fruit salad or on top of muesli or porridge.
But when strawberries are in abundance, I'll cook with them and make desserts, jam or sauces. I'll even toss them through salads or use them in drinks. There are so many ways to use up excess strawberries, that come the peak of strawberry season, you can add strawberries to almost anything.
Strawberry compote recipe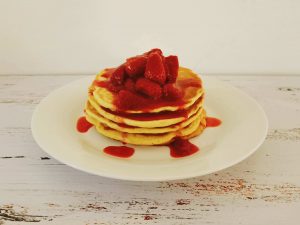 There is something special about how a little lemon and sugar brings the strawberry flavour out. I often do this with fruit which is slightly past it's best, and you can add any fruit you need to use up. This is recipe fine without citrus, but I find it enhances the flavour, and having a lemon and lime tree, I usually have this on hand.
Ingredients
Strawberries (plus any fruit you need to use up)
Sweetener (sugar, honey, stevia etc) to taste
Optional – citrus (lemon, lime, orange)
Optional flavourings vanilla, mint, basil or other herbs
Method
Cut strawberries into pieces – bite size or smaller.
Place in a saucepan with a sprinkle of sugar and a squeeze of citrus.
Gently simmer for about 10 minutes until juices ooze out.
Optional add additional flavourings and stir through.
Serve warm or cold with muesli, pancakes, over other fresh fruit, or whatever takes your fancy
Strawberry sherbet recipe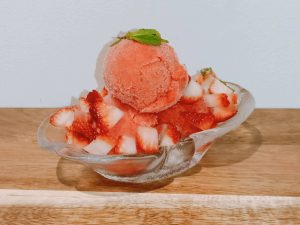 A quick dessert made from pre-frozen strawberries means you can freeze strawberries now, and use them when you're ready. But I tend to store this readymade for longer term, because it takes up less space in the freezer.
Ingredients
About 500g frozen strawberries
Juice of a lemon, lime or orange
¼ cup of caster sugar, honey or sweetener of choice
Optional mint
Method
In a processor blend all ingredients until smooth.
Pour into a container and freeze to firm up for about 30 minutes.
Scoop and enjoy.
Note: Once it's frozen solid, remove from the freezer for about 15 minutes to soften, before serving.
Strawberry cocktails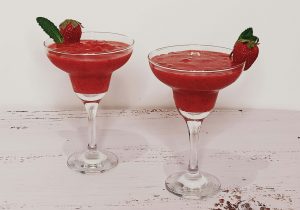 Strawberry cocktails are effectively an extension of strawberry sherbet. You can leave some behind and add some fresh strawberries, or strawberry puree, to make it drinkable. This drink can be quite textured, so if you prefer a smoother drink use a puree or syrup in place of fresh strawberries.
Ingredients
Frozen strawberries
Fresh strawberries
Sprinkle of sweetener (optional)
Squeeze of lime or other citrus
Splash of rum, tequila, vodka or whatever your potion is.
Note: Use apple or orange juice for kids or mocktails
Method
Blend even parts frozen to fresh strawberries. Add a squeeze of lime and a splash of liquor (or juice for a mocktail).

Serve and enjoy.
Strawberry sauce recipe
This recipe is from Mandy Schultz at Luvaberry. And you can watch her make it in the video below.
If you're into making it to give away, this would be a great gift idea too.

Ingredients
1 kg strawberries
2 cup Sugar
1 litre Water
Method
Heat water and sugar in saucepan until sugar is dissolved.
Add the strawberries and simmer for 20-25 minutes until strawberries are collapsing.
Mash with a fork and strain out the strawberry smush if you want a smooth syrup.
Pour the hot syrup into a clean, sterilised glass jar and allow to cool.
Strawberry jam recipe
Strawberry jam is classic, but there is something about home made jam which is so much more tasty than most jams you can buy. Some make strawberry jam without pectin, but I find it helps it to set, and spends less time on the stove. Otherwise the jam can be slightly less set, which is still pretty good
Ingredients
2kg strawberries
1.5 kg sugar
juice of 2 lemons
Optional pectin 2 tablespoon citrus pectin
Optional vanilla pod
Method
Cut strawberries into half or quarters, depending on size of them – (base this on the size of fruit you want on your toast)
In a large bowl, combine strawberries and lemon juice.
Pour on 1 kg of the sugar and set aside 3-4 hours or overnight to macerate (if time allows).
Place a plate and a couple of teaspoons in the freezer (to test for gelling).
Combine remaining sugar with pectin and mix well (this prevents pectin from clumping).
Place strawberries into a large pot. Sprinkle over pectin sugar mixture and stir in well.
Bring mixture to a slow gentle boil. Stir occasionally and cook 25-40 minutes. Option to skim any impurities – but this is for aesthetics and is great to have on toast as a cooks treat.
Test for gelling point toward the end of the cooking time by taking a spoonful of the cooking jam and putting onto the chilled plate. This is to cool it and see if its set.
When you have the desired consistency turn the pot off.
Fill hot, sterilised jars, place on lids and secure well.
I turn upside down while hot to add to the sterilisation.
Some place into a pot and simmer again, but I don't.
Strawberry creamed rice recipe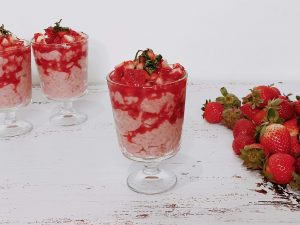 This is a great recipe if you have leftover rice and want to be a little creative. And I love the way the strawberries and such a vibrant natural colouring to it. This is served, topped with fresh strawberries and little sauce leftover from the strawberry compote.
2 cups of leftover cooked rice
1 cup milk
½ cup sugar
250 g strawberries for the rice
optional extra strawberries for garnish
Put the rice in a pot with milk and sugar and bring to a gentle simmer.
Blend 250g strawberries into a puree and add to the rice mixture.
Simmer gently about 20-30 minutes until liquid has been absorbed.
Chop remaining strawberries, mix about half though.
Serve and add the rest of the strawberries as a garnish.
Strawberry salsa recipe
This recipe is from Jane Richter from Queensland Strawberries and you can watch her make it in the video below.
Ingredients
Punnet of strawberries
Capsicum
Avocado
Red onion or spring onion
Cucumber
Herbs eg coriander, parsley
Olive Oil
Juice of a lime or splash of vinegar
Any other bits of fruit or veg you want to use up
Method
Finally chop all ingredients, toss through with a splash of vinegar and olive oil.
Enjoy with corn chips or with chicken or salmon, or however you want to eat salsa
More ways to use up strawberries
If you want more ways to use up strawberry, check out Queensland Strawberries recipes
Some of my favourite ideas from are
Even more strawberry recipes
How to use strawberries cook along video
Here's a recording of a live cook along, where I was joined by Jane Richter from Queensland Strawberries, Mandy & Adrian Schultz from Luvaberry with Costa Georgiadis who came on board to take on the challenge to reduce food waste, and help get the message out there.
We got some great insight from the strawberry industry and shared some great strawberry recipes and idea. So grab a couple of punnets and cook along.
This session was done as part of a research project focusing on Household Innovation for the Low Waste City project at Monash Uni.
Strawberry recipe inspiration
Here is further inspiration from people who watched the cook along and tagged me or sent images through of their strawberry creations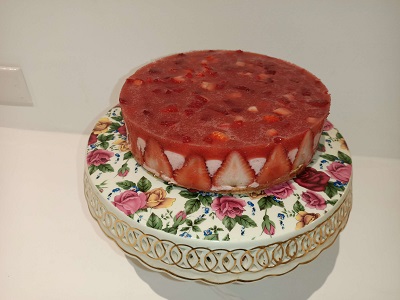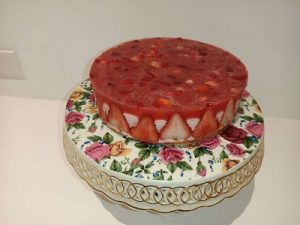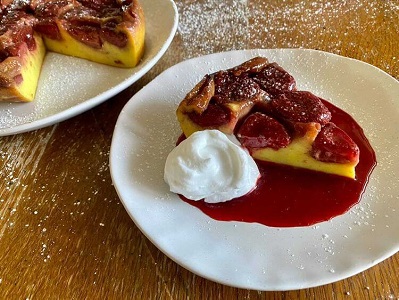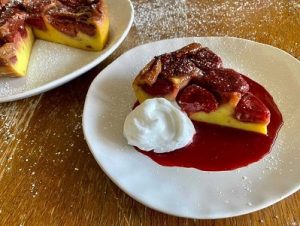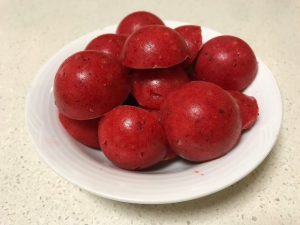 Please share your favourite ways to use strawberries in the comments or email kirsty@sustainabilitypathways.com.au with images you wish to share to support the project.

Thanks for reducing food waste and supporting the Low Waste Living research project.